Art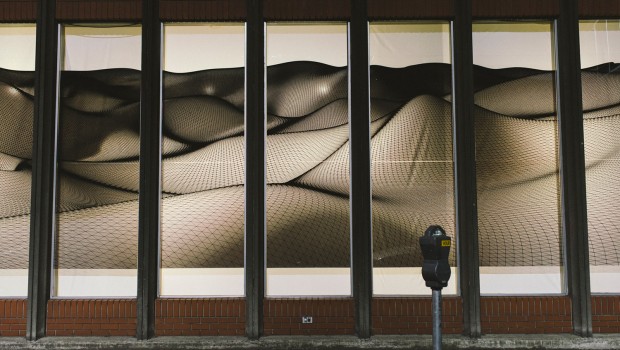 Published on May 31st, 2016 | by Karli Ingersoll
0
Window Dressing Expands Through Downtown Spokane
It's been just over two years since I wrote about Window Dressing's first installation. In that short amount of time the organization (started by Terrain founder Ginger Ewing) has grown from one single artscape (fancy word for art installation in a storefront window) to filling up to 10 blank storefronts in downtown Spokane at a time! Currently, eight different artists are featured and the list continues to grow.
ARTSCAPES
As downtown Spokane grows, there are less and less dilapidated buildings and slowly less vacancies. But if you really look around it's noticeable that we have a long way to go. The Ridpath development remains on hold and continues to plague the middle of downtown with a giant eye-sore. Thanks to Spokane Arts and the LIGHT 'EM UP NEON RESTORATION PROJECT, the neon sign was re-illuminated last year and thanks to Window Dressing the ground floor of this gaping block of abandonment has gotten little facelifts here and there. Current installations at The Ridpath include this awesome mural by Chris Buldoc who's work really caught my eye in Terrain last year.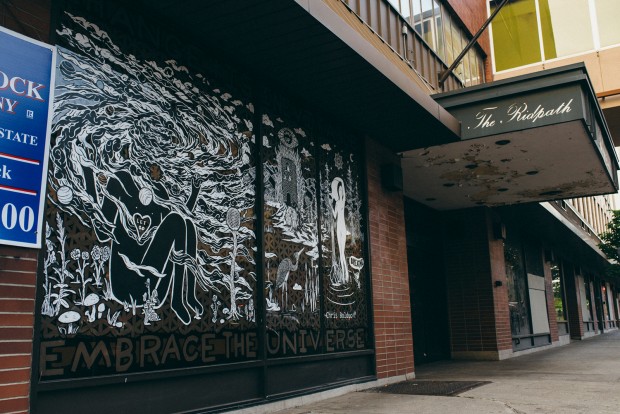 Statement from the artist: this mural deals with impermanence. An idea that expresses the Buddhist notion that all of conditioned existence, without exception, is transient, or in a constant state of flux. The subject matter of the work attempts to illustrate ways of coping with the ups and downs of life, expressing the potential of human consciousness and remembering our past; rooted in the connections made with the natural world.
Also, on the Motor Inn side of the Ridpath on 1st Ave. is this awesome piece by Chris Tyllia.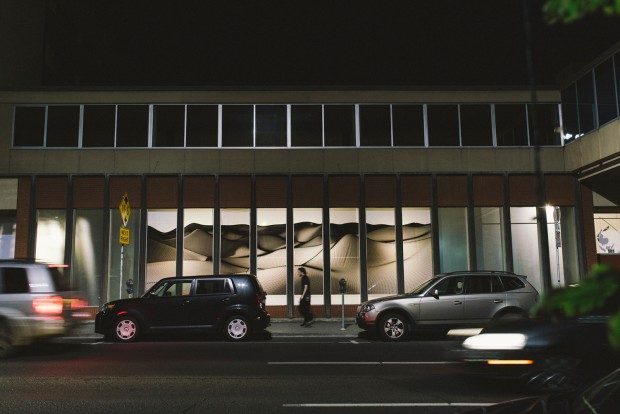 And this colorful masterpiece by Ginelle Hustrulid.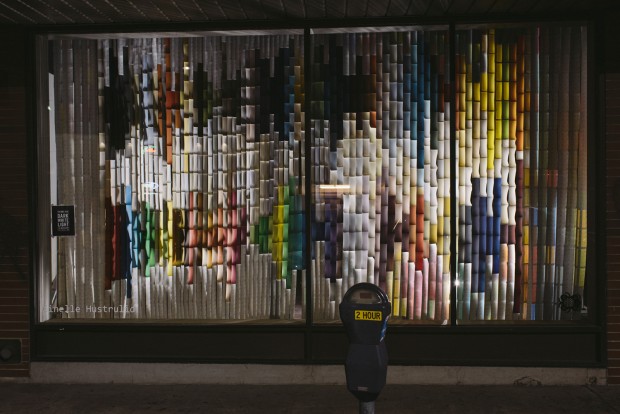 There are a bunch of other featured locations around downtown as well, like the one below on Bernard and Main by Karen Mobley. The rest of the locations and more info on the current artists can be found here. For future artist opportunities, follow Window Dressing on Facebook! They have a call out RIGHT NOW for a new exciting artscape project.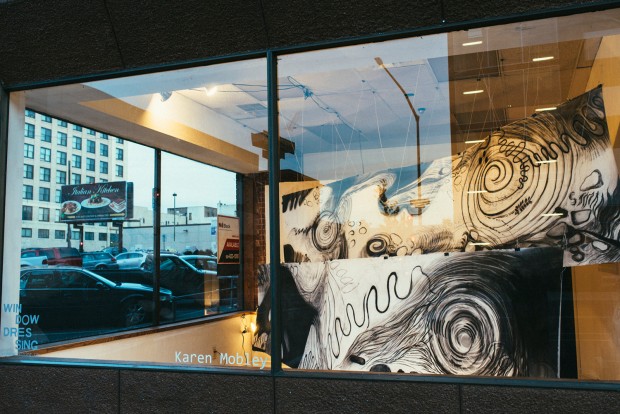 CREATIVE ENTERPRISE
On top of these artscapes, Window Dressing is expanding very soon into facilitation of Creative Enterprise in Spokane. What that means is they will be a great resource for young entrepreneurs who are wanting to start small businesses that involve the arts. They will advocate with real estate agents and city departments, they will offer business bootcamps and mentorship as well as connecting points to funds. But most of all they will be an encouraging catalyst for young artists who want to take their craft to the next level towards a sustainable career.
Is that awesome or what? As a business owner and artist, I can say that this resource is something most new business owners wouldn't even dream of having access to. But soon it will be a reality in Spokane and we will start to see even more growth in the small business scene of exciting progressive ideas taking root in the city.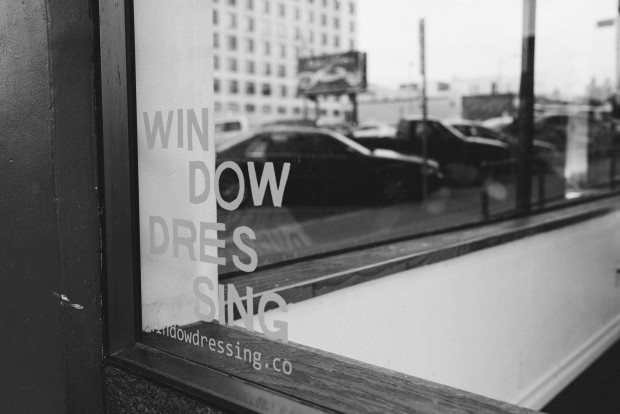 Follow Window Dressing on facebook to stay up to date!
All photos by Brandon Vasquez