Music
Published on January 4th, 2017 | by Karli Ingersoll
0
What Will Destroy You by Kyle Morton of Typhoon
Portland based band Typhoon has had become one of the most beloved acts of the pacific northwest with their massive 12-piece folk orchestra and dynamic sound. Now their fearless leader, Kyle Morton has broken off for a solo record and tour.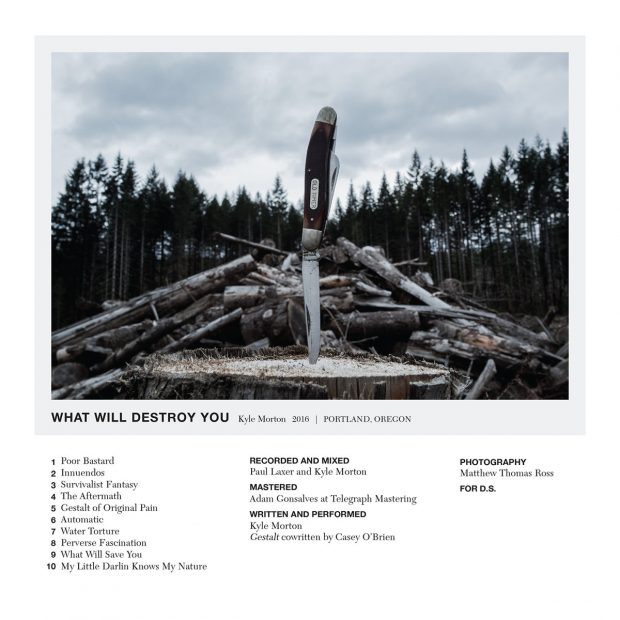 Like most of Kyle Morton's songwriting, I'm finding myself peeling back the layers of an onion as I listen. Not just sonically but emotionally. At first listen the music feels sweet and familiar with airy melody lines and acoustic orchestration. It's not unlike the sound of Typhoon, just a bit more mellow. It's nice, but it doesn't necessarily make me feel anything up front. It's almost like looking into a storefront window from the street on a cold day that's steamed over. Colors and sounds are muffled but making it clear there's something exciting inside. It just might need further investigation.
A few listens later and I realize this will be one of my favorite records of the year. There is so much to hear. Some of my favorite songwriters are truly gifted at hooking you in the most subtle melodic ways and this album is chocked full of those moments. Hooks are usually obvious and draw you immediately back into a song. Kyle's hooks are so tempered, which makes them special in that they are not easily worn out even after many many listens. Those of you who have gotten attached to Typhoon records know what I'm talking about. There's a similar quality of depth inside What Will Destroy You.
What I haven't completely grasped yet is the narrative of this record lyrically. It feels almost so intimate to the writer that I might not want to know everything. But it's also the kind of lyricism that can speak to the soul even without fully understanding all the details. It's about loving and being loved. This article digs in much deeper into the lyrics if you are interested.
The benefit of all of this for the listener is not only can What Will Destroy You be a pleasant record to listen to, but with some investment it's the kind of art that can mean something to you. In an ever cluttered world of music that is sometimes too easy to listen to and too quick to burn out, it's relieving and rare to be faced with a record that digs in melodically and at the same time reveals itself lyrically in new ways with each listen.
Catch Kyle Morton on his solo tour this coming week! And purchase the new record here or listen on your favorite music service.
Jan 06 The Old Church Portland, OR
Jan 07 The Triple Door Seattle, WA
Jan 09 Rickshaw Theatre Vancouver, Canada
Jan 10 The Bartlett Spokane, WA