Event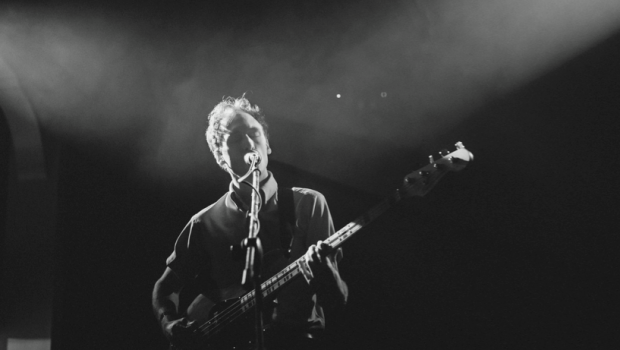 Published on June 7th, 2013 | by Karli Ingersoll
0
Volume (Spokane music festival) 2013 recap
One of the most helpful yet sometimes most frustrating parts of any local music scene in any town is the press outlets. Ask any musician about press and you will most likely get an earful about how evil music writers are and how they love control and love to put down bands or handpick the bands they decide are cool. In some bigger cities they do have a lot of control and sometimes great bands can get left out. More on that later…
Volume originally stemmed from The Inlander's yearly issue featuring a handful of local bands they think are noteworthy (Bands to Watch) and ever since I started paying attention to local music in Spokane this has been a big event for music lovers. They initially celebrated the release of the issue with a single concert featuring just the selected bands. Last year when they decided to expand the event to more of a block party type of vibe, I was skeptical. My band got asked to play and little did I know, it would be one of my favorite performances and events in Spokane, period. Never ever has that many people in Spokane at once come out JUST for local music. To me, it will remain a historical landmark for the Spokane music scene for years to come.
Now again, I guess I'm a big skeptic, but when I heard The Inlander was expanding Volume even further this year to 70+ bands and tons more venues I was doubtful that it would work. Last year was so fun and great, I really didn't want them to ruin it for me. I'm sure you can predict by now where this is going…Volume wasn't ruined for me. If anything, it was taken to the next level and shows a lot of growth in the music listening community in Spokane. People had to pay more for wrist bands, show up earlier for the bands they really wanted to see, check out acts in advance to choose a schedule well…and from what I could see, Spokane was ready to go to the next level.
There was far too much going on for me to know how it went at ALL the venues, but I can speak to the bands I was able to check out. Here's a few of my highlights and a few photos captured by some fantastic, non-Inlander sanctioned photographers who I think definitely should be on the official media list for next year because their photos are some of the best I've seen from the night.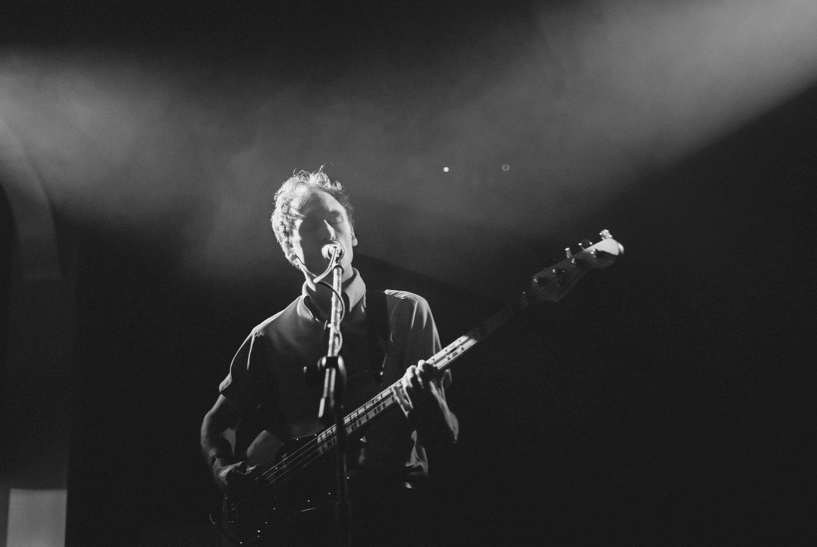 Cathedral Pearls – Photo by Brandon Vasquez
It's really weird for me to write about my own band, but I'm going to get over it because I think the musicians perspective is a valid thing to explore and I just have one main point. BEING A SPOKANE BAND IS AMAZING. I always thought post-Empyrean it would be really hard to be a musician in Spokane and for a while (for me) it was. But life goes on, people step up and music still finds it's way out into the world. Our scene is imperfect but for those of us who have music making in our blood, there's no good excuse to not release what's running through our veins. If you are a musician and are thinking about starting a band…DO IT. People will support you if you work hard and attempt to do something unique. There really are plenty of places to play and more than enough people that will listen. Our set was super fun even with a stripper pole on the stage.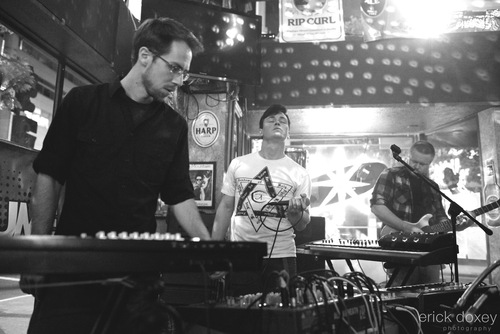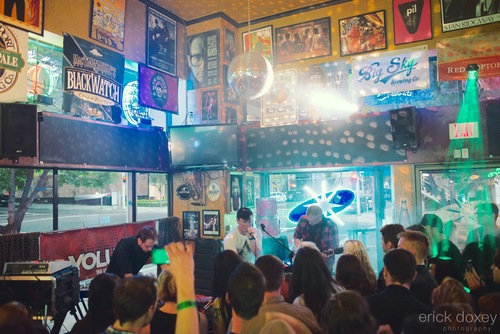 OH MY goodness. This band was who I was looking forward to the most. They were chosen as one of The Inlander's bands to watch and rightfully so. I'm not an electronic aficionado but I have been paying attention a lot more to the electronic influenced 80's throwback jams that are getting really popular in the indie world (Wild Nothing, Dungeonesse, Grimes, etc.). I'm really hoping that these guys will start a wave of bands like that in the Inland Northwest. Their set was fantastic and the songs translated incredibly well to a live context. The Sound system in the Blue Spark did not do well at all, but they still kept the groove going and put on a great show. Not only do they have a great grasp of their sound with tasteful vocal effects and rad synth textures, but their songwriting is amazing. These guys definitely deserve to be taken seriously.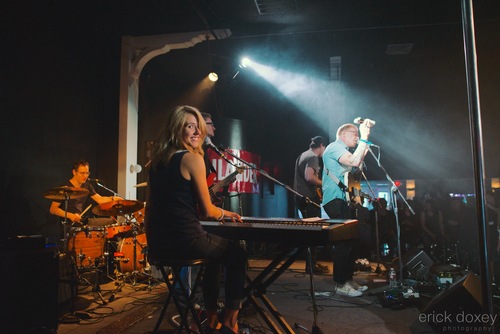 Campfire OK – Photo by Erick Doxey
I've heard about these guys for several years now and checked out some of their tunes from time to time. They are from Seattle and are a really hard-working band. I definitely enjoyed their set, they have a little bit of the signature Seattle-folk-rock sound that reminded me of The Head and the Heart but with a little bit more of a dark lonesome romantic vibe to the melodic side of their tunes. Spot on vocals with sometimes 4 part harmonies and really beautiful song arrangements.
Other highlights for me were Sick Kids XOXO, Marshall Mclean (even though I had to watch from the window because it was full), Nude Pop, Terrible Buttons, Kinski and Dead Serious Lovers.
Back to the topic of press. Along with the power to do a lot of damage to a band's image, press has the power to do a ton of good. Bands these days are made on buzz and a lot of that comes from press. I hear people gripe about The Inlander's coverage of the music scene here and I have to admit I've joined in my fair share. Part of the reason I started Crunk Roost back in the day and now this blog = the best way to complain is to make things. But an event like this is no small task. Leah Sottile is the music editor and working at the Inlander is her job. Like any job, she could just maintain and keep things going how they always have been. But instead, she chose to once a year make a big change and invest a ton of extra hours to not only the bands here but the city itself. This event probably isn't making the Inlander a bunch of cash and it's probably not getting Leah a big raise. Last year it was even a risk for her to take it on. I'm sure she had to plead with her bosses to try something so crazy. The most awesome part of all of it is that this is just the beginning. The progress in only one year is amazing! I can only imagine how awesome next year will be.
It's a good time to be a risk taker in Spokane.