Music
Published on December 22nd, 2014 | by Scott Ryan
0
The Holy Broke, 'Do It Yourself' Review
There is a well worn path through the history of folk music that is littered with the remnants of emotional baggage scattered by its many travellers. The contradiction is that this path tends to draw in both the weary and the hopeful, as well as the cynical and the earnest. Tourists come and go, songwriters that scope out the relics so that they can lift ideas and present them as if they have a true understanding of their history. Pilgrims however, seem to know instinctively what led to every ancient ruin. They walk through each one with reverence, knowing that what gets left behind speaks volumes about what the traveller brought with them to begin with and what each one experienced along the way. For Kent Ueland, it is far too early to know what he will leave behind, but his debut record as The Holy Broke gives listeners a clear and often brutal window into what he is carrying and the toll his journey has taken thus far. 'Do It Yourself,' is a tour down this very path and one that seems determined to stake out a spot of its own and wait for the moss to grow.
It is tough not to make comparisons to Terrible Buttons, the sometimes seven (plus) piece band to which Kent devoted the last five years of his musical career. In fact, it is tougher not to pick up on the fallout from that project's recent disintegration in songs like opener, 'Roadsick Blues.' But there's something more immediately welcoming in the atmosphere of 'Do It Yourself,' that sets it apart from Ueland's previous work. The warm tape hiss and acoustic guitar picking compliment a stripped down, elegant simplicity in his songwriting, reminiscent of recordings from the earlier days of Saddle Creek. The distinctive growl of his voice is slightly dialed back, allowing for a wider range of emotion to peak through. Kent has said that his intention was to use the fewest chords that he possibly could, to stay truer to the core of the songs. Letting an often quiet beauty replace the cacophony of some of his previous work shows off the underlying maturity of the songwriting, and this may be his strongest collection yet. Ueland has a gift for writing melodies that are instantly familiar, and marrying them to lyrics that tell vivid, lived in stories.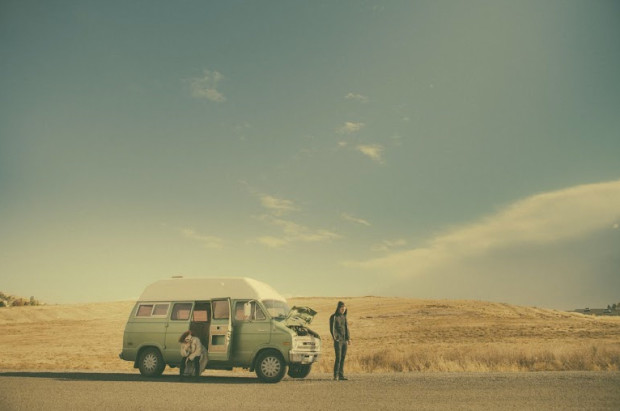 And oh, the stories he tells. The merciless deception here is that the inviting nature of the production initially masks the heartbreaking themes that underscore the entire record. Even on songs that feel a bit jauntier, Ueland pulls no punches, wrestling with infidelity, suicide and the inherent evil of mankind. Of course, themes of death and heartbreak are often par for the course in the country/folk genre that the Holy Broke seems to occupy so naturally. But Kent Ueland writes from a deep, ostensibly personal well that belies his young age, and manages a careful balance that teeters between sneering wit and resigned shrug that suggests the obvious influence of the likes of Tom Waits or Leonard Cohen. And while you can sense his veneration for the traditions that have come before him, these songs feel at once classic and contemporary by avoiding the sort of old-timey, period settings so many folk singers adopt and describing life as it is now, in all its ugly boredom. Ueland's writing can be both devastating and hilarious, sometimes within a single song. "So I'll grow out my nose, telling the weakest ones that they could save my soul/ If they take this stray dog home, let me suck the sinews off the bone," Ueland sings on 'Off the Bone,' demonstrating that rather than being cynical, he seems to have simply complied with the belief that the darkness within himself (and everyone) may be the closest thing to truth. And while listeners may find themselves haunted by lyrics like those of the title track, where Kent sings of death, "I invite her to knock down my door/ She says do it yourself/ Quit blaming your good health/ She says do it yourself/ Quit waiting for my help, coward, do it yourself," they may also find themselves laughing at the way a line like, "They say the whole world's in love when you're lonely/ I say the whole world makes love when I'm horny," from 'Old Flame Feeling,' can be simultaneously so clever and so juvenile.
The Holy Broke performing "TV" in one of our first Collect Sessions
Despite the more minimalist approach, Ueland still has an ear for production flair, and there is a sense of tasteful restraint to most everything here: the pulsing kick drum that gives way to a full band on 'I Ain't Proud,' the trumpet calls on 'Old Flame Feeling,' and the church organ on 'Something In My Stomach,' all feel perfectly placed without being overpowering. Female vocals harmonize gently like ghosts of the former lovers that occupy so much of the record. The only times that the arrangements seem misaligned with the content are when they obscure the very nature of the Holy Broke's approach by trying to tell the listener what to feel. When the strings become a driving force on the otherwise broken blues of 'TV,' the growling bitterness inherent in the song's performance is undercut. 'Do it Yourself,' is at its very best when Kent manages to balance the darkness with his sharp sense of humor, following each gut punch with a laugh and a knowing sigh.
Listen to "Something in My Stomach"
On closing song, 'Wellwishers, (Part 2),' Ueland sings, "Oh boys, I'm still alive/ I'm just dying to make it worth my dime/ Oh boys, I'm feeling fine/ Making money off of feelings that ain't mine," and goes on to say it is the most honest song on the record. It is difficult to tell if these are the shrugged off cries of a truly depressed soul, or the Dylan-esque wink of a folk singer who knows he's making up his own legend as he goes along. Of course, that's the the point. Either way, it is a brilliant, mood lightening end to an often dark and deeply affecting record. The magic trick is that if you listen closely, there's still no hope to be found. But just maybe, Kent Ueland "laughing at the end of this CD" in the face of overwhelming gloom, will be the lasting relic that echoes for future folk music pioneers to discover.