Art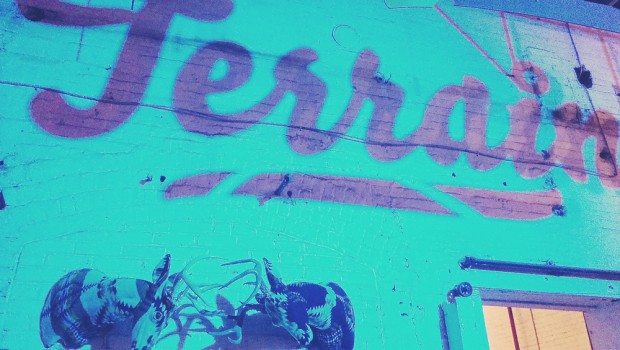 Published on October 9th, 2014 | by Karli Ingersoll
0
Terrain 7 Recap
The 7th year of Terrain. It's crazy to see that number…SEVEN. As you probably know, Terrain was hosted in it's (soon to be) permanent home this year. I closed up shop at The Bartlett around 10:30 and headed over on foot to the new space. Walking through downtown at that hour isn't something I would typically do alone, but knowing it was the night of Terrain, I assumed there would be more than usual foot traffic. I was right. There was almost a stream of people in both directions wearing a new path in the sidewalk to the "Snowflake Saltines" building on Pacific. As I turned the corner toward the building, that familiar energy came over me. The feeling that comes only a couple times a year in Spokane. Familiar faces and strangers all connected by a common interest. Art.
I got to Terrain too late to catch the Literature Park this year, which was tucked into a neat little sod covered cove of the building. I heard it was fantastic. And I missed most of the bands except for Bishop Allen. The stage set, lights and sound were professional and although it can be hard to keep a captive audience for the music at a large event like this, Bishop Allen had a righteous swarm of late night dancers grooving to their indie pop tunes.
I wandered through the two floors jam packed with art, in awe. The collection this year was definitely my favorite by far. Many mediums represented, diversity of styles, veterans of Terrain and new artists. I snapped some shots on my phone, although not the best quality, I wanted to give you a little taste of some of the art in case you were crazy enough to not show up to Terrain in person.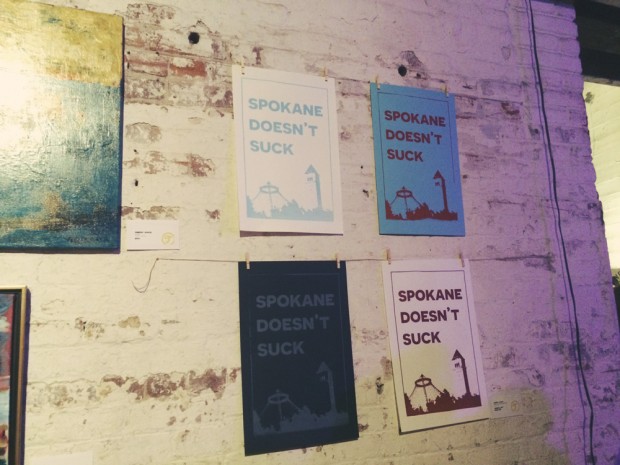 Derrick Oliver makes Ode-To-Spokane screen prints from time to time and this year's print was perfectly placed rousing a healthy dose of #spokanedoesntsuck hashtagging through the night. D.O. (as he's known by most folks) also recently started a new blog featuring some local artists. Check it out here.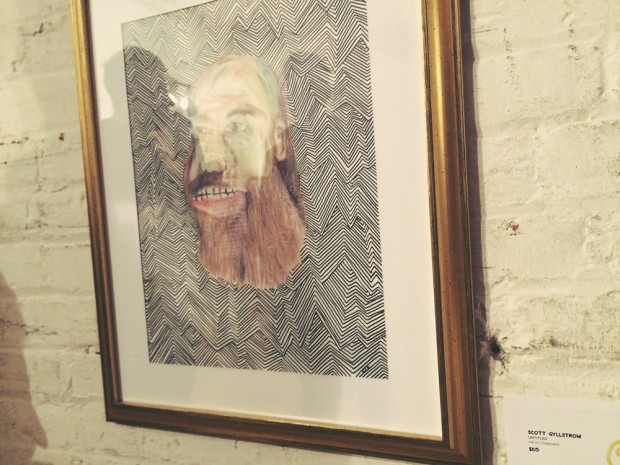 Forgive the terrible photo but I really enjoyed Scott Gyllstrom's submissions. Especially this creepy bearded guy.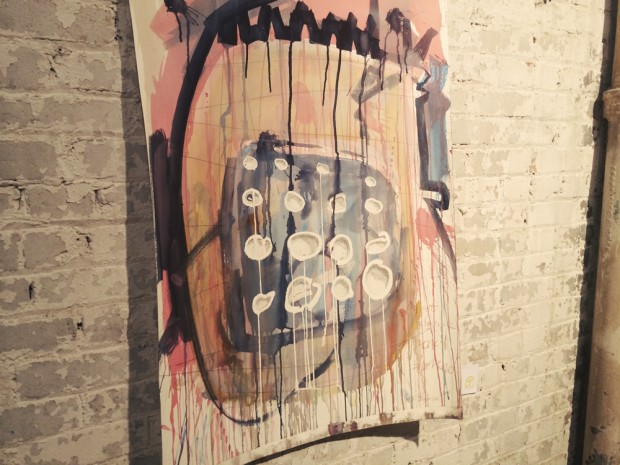 Austin Stiegemeier killed it as usual with some new, particularly drippy paintings.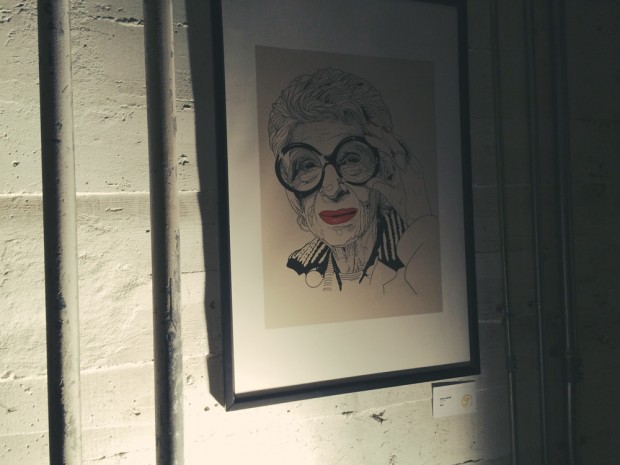 And one of my personal favorite local artists, David Waters was featured. This portrait was amazing to see up close, check out more of David's work and his wallpaper design he created for Collect.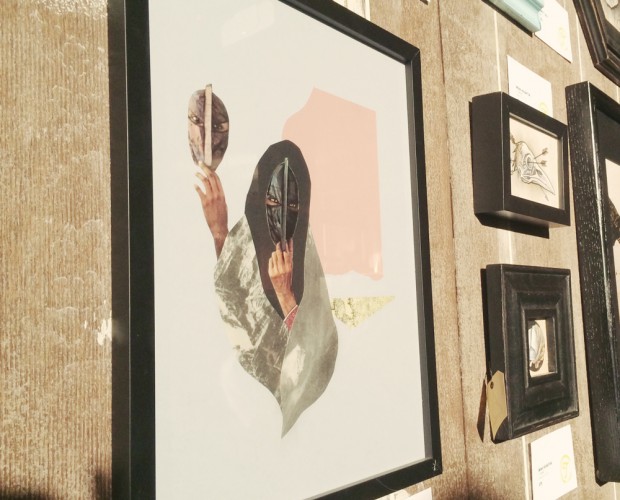 Designer Tony Kuchar submitted some analog pieces including this one.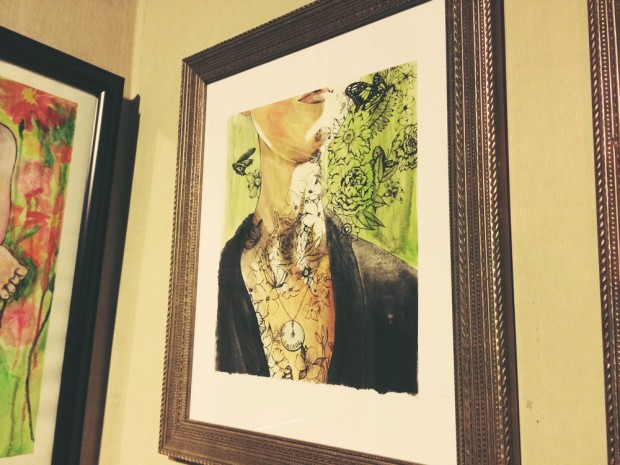 Love the details in this piece by Susan Webber.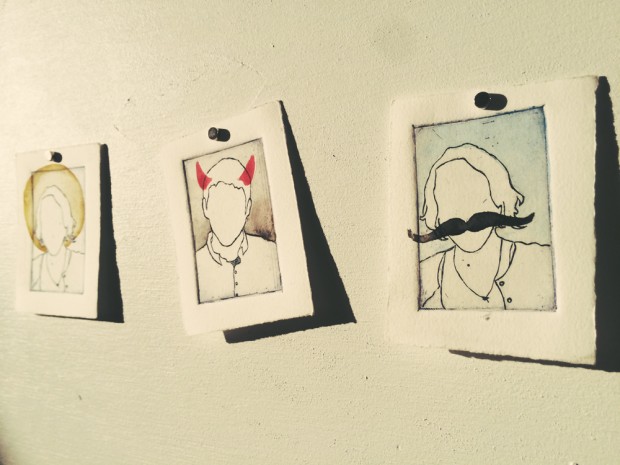 Lindsey Merrell created a ton of little prints, some of these portraits just charmed my socks off.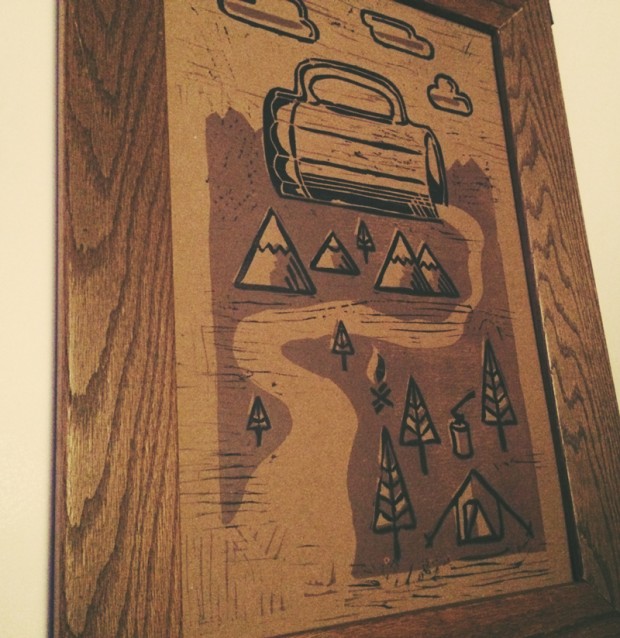 John Merrell and Aaron Abolofia of Tiny Mammoth Ink created this awesome print that probably sold in the first 15 seconds of the event.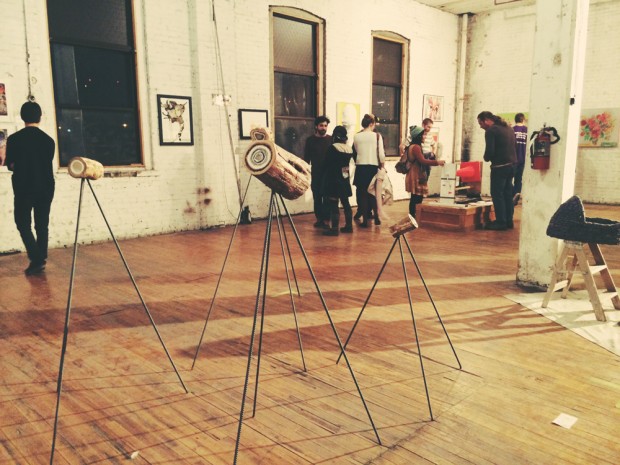 I thought some of the installation/sculpture art this year really stole the show including these pieces by Kiyomi Chadwell.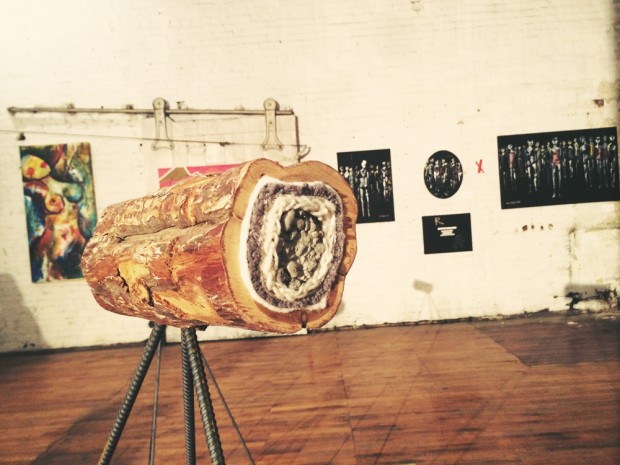 The intricate details of each core were fascinating and I was drawn up into wondering how the construction of each piece came about.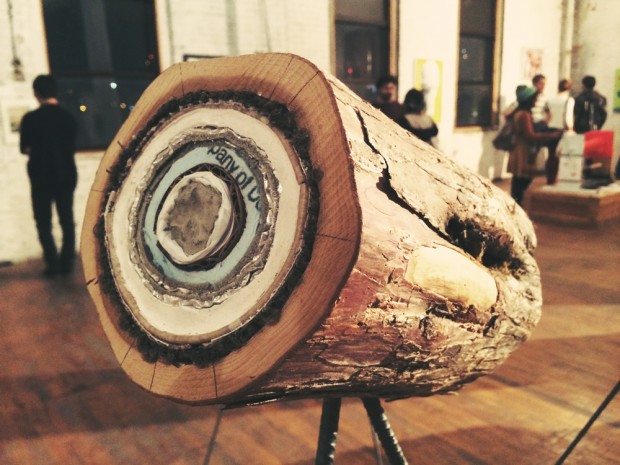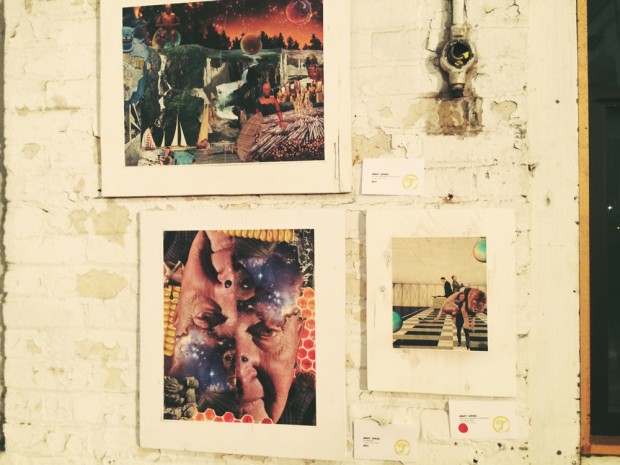 I also loved these collage pieces by Grady Gudgel especially the one of the woman carrying the lion.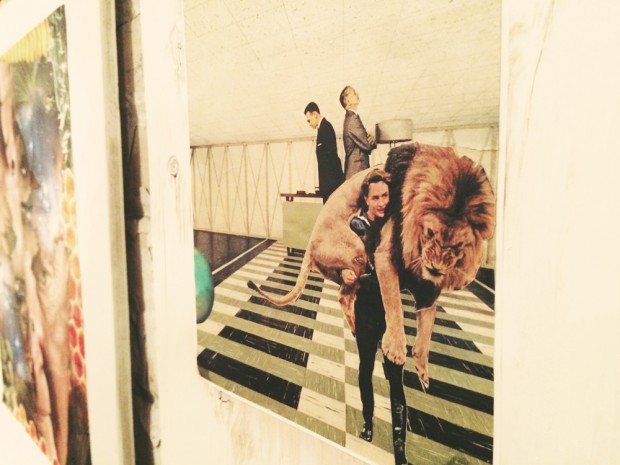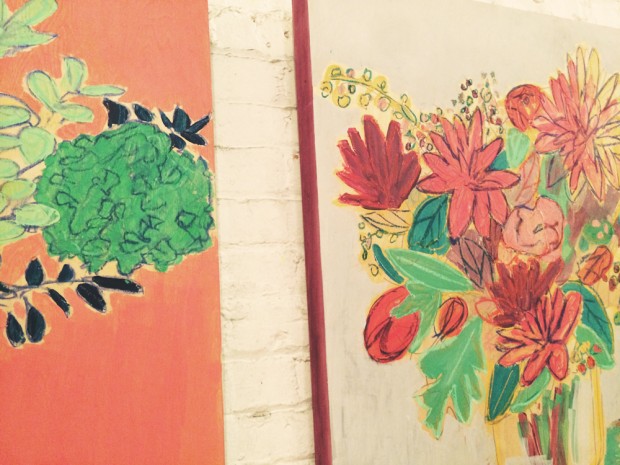 I'm always a sucker for floral pieces and this trio by Oana Barac-Matei is stunning.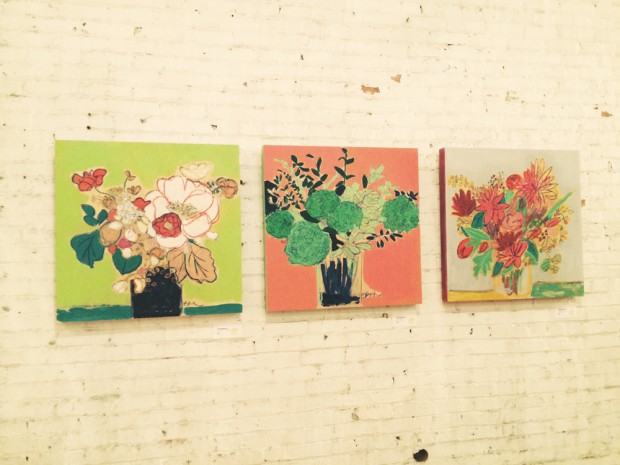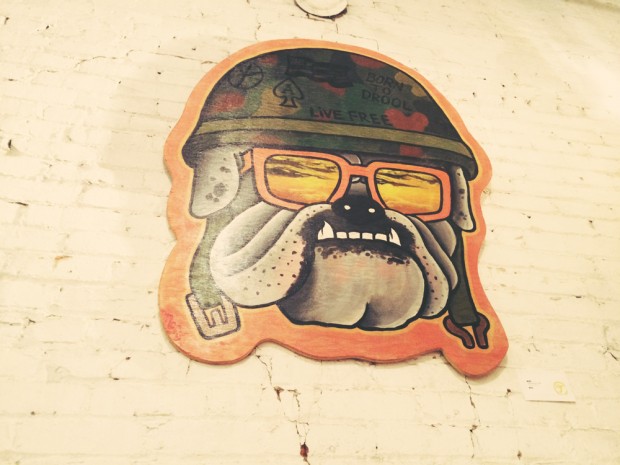 The painted bulldog by Nory…just so good.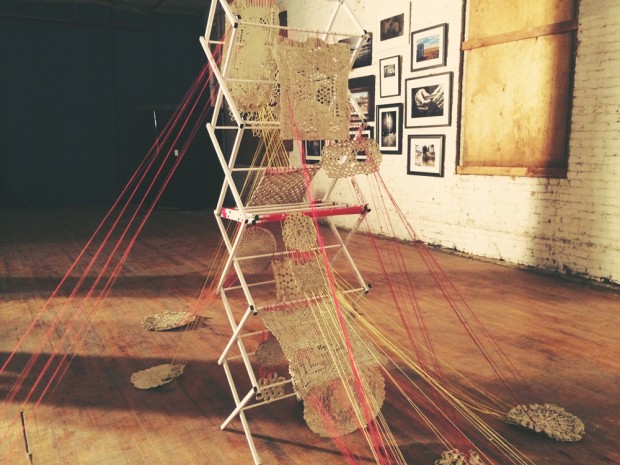 And this piece by Teresa M. Dixon and Kiyomi Chadwell. Beautiful details.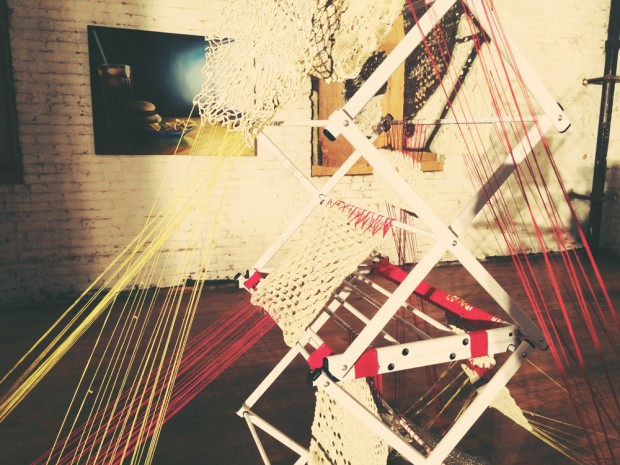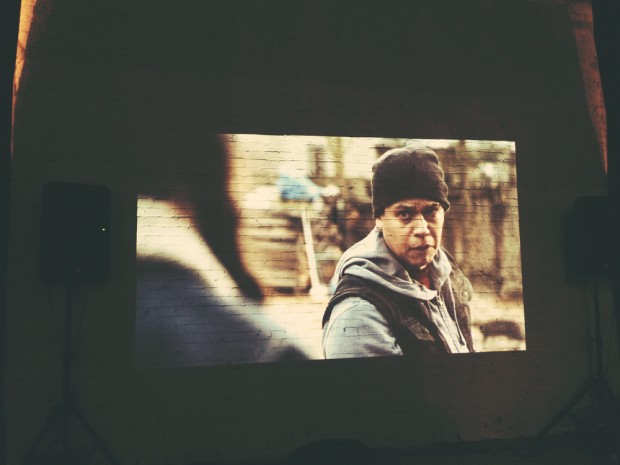 In the film section upstairs I got to watch The Hero Pose for the first time. A film by local producer/filmmaker Mischa Jakupcak. Although the background noise was a little distracting, the film is amazing. I recommend everyone see it.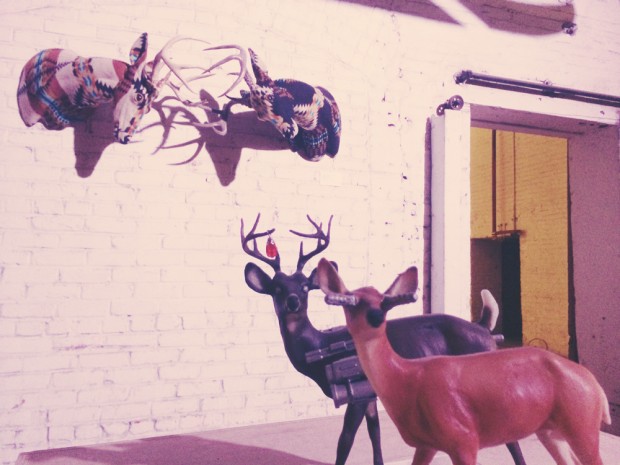 And of course Chase Halland was a favorite overall this year with his battling pendleton bucks.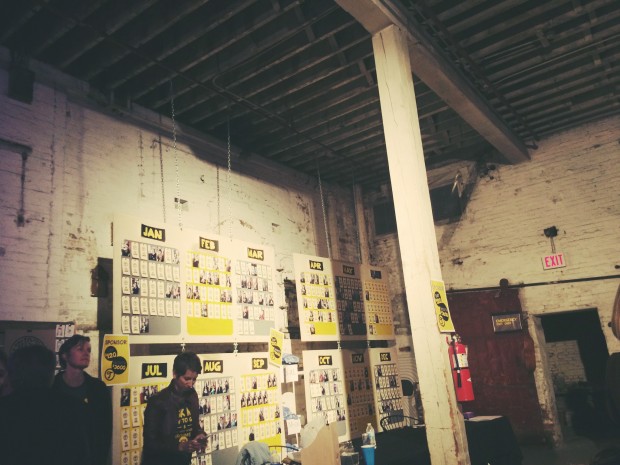 The best part of all of it is the hope that inside this building can be more than just a once a year explosion of art. But consistent, continued growth week by week through the year. Terrain has done so many amazing things for the art scene in Spokane and it's only just getting started. Without our help it won't be able to go much further though. The people that love Terrain the most need to get behind it. We all say we love Terrain, right? Well, let's show it in a real way and invest. Join the campaign, sponsor a day, give even $20 and let's watch what can happen in Spokane through this continued effort. Personally, I can't wait.