Event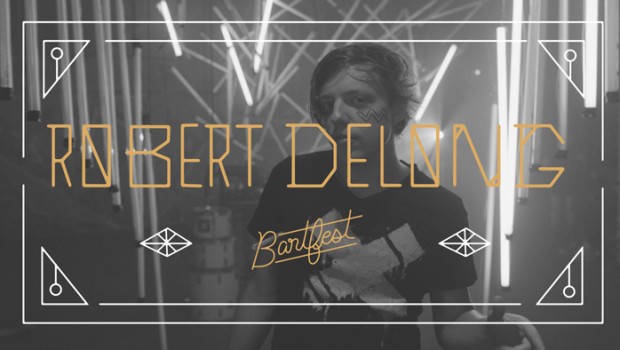 Published on August 14th, 2014 | by Scott Ryan
0
Robert Delong at Bartfest
Face paint, pulsing basslines, squelching synths, flashing lights, and a giant orange 'X'. This honestly sounds like the setup for a giant rave, and in a way, that's exactly what Robert Delong intends. Every live set is an opportunity to "make you fucking dance," as he puts it in his hit single, "Global Concepts." But the truth is that there's far more going on at a Robert Delong show than a DJ simply dropping the beat at the right time and sweaty dancers tripping out over subwoofers and a wild light show. Taking a moment to watch Robert perform any one of the components of his incredibly complex live set, whether it is sequencing vocal and percussion loops live, manipulating his synths and vocals with old video game controllers, or sitting down at his drum kit and totally blowing your mind, is to see a highly skilled musician and craftsman at work. Tech geeks will practically orgasm. The tricky part is to stop dancing long enough to pay attention.
Robert grew up in Bothell, Washington, just outside of Seattle, before moving to Southern California and working for years on his unique and captivating one man show. It didn't take long for fans to find themselves under the sway of his musical prowess, and since 2012, Robert has been touring non-stop, playing major festivals around the world including Coachella, Sasquatch, Bonnaroo, and the Capitol Hill Block Party. He's also been featured on Letterman, had a couple of highly successful singles, and racked up a few million hits on Youtube. Delong's music is equal parts modern EDM and classic indie rock. His beats and synth sounds are often more reminiscent of Dntel than somebody like Skrillex, and his songwriting nods to indie heavies like Dave Bazaan and Modest Mouse. He also plays and sequences everything you hear. More so than most of his contemporaries, Delong possesses the smarts, songwriting chops and musical ability to move beyond the EDM trappings of this record and continue to evolve his sound, long after the pendulum has swung away from the current dance music trend. In the meantime, it is hard not to feel the need to move your body when his music plays and trust me, even if the record's raver energy isn't your thing, his live show is definitely not to be missed. Watching his careful juggling act, as he moves from playing parts and creating vocal loops at his keyboard, to a table full of odd MIDI controllers, to drum pads, to a full drum kit without missing a step is wonderfully thrilling. Prepare to be blown away, and to sweat it out on the dance floor.
Catch Robert Delong's set on Saturday, September 6th with Beat Connection, Bear in Heaven, Desert Noises, Young Magic and more at Bartfest.
Recommended tracks: 'Global Concepts,' 'Happy,' 'Few Years Make'
Bartfest website • Robert Delong website • Robert Delong on Facebook