Event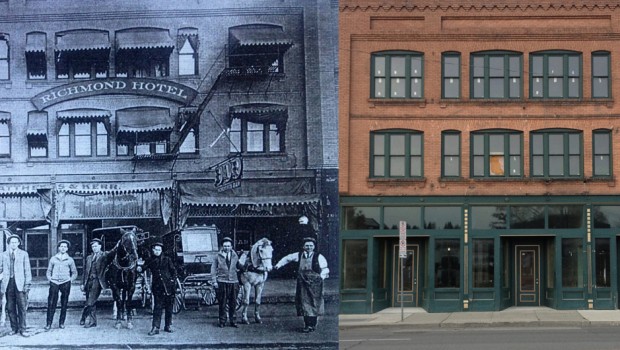 Published on July 2nd, 2013 | by Karli Ingersoll
1
Progress and History of The Bartlett
A lot of you know already, but for those of you who don't, I'm opening a live music venue with my husband, Caleb Ingersoll in downtown Spokane. I don't have much to post on Collect this week, so I thought during this slow time I could do a little inside scoop on what has been going on with The Bartlett. Hopefully you are ready for a little Spokane history!
Nothing has ever made me interested in history as much as being a business owner. So, when we signed a lease on a building that has been around for over a hundred years, I had to do some research on what had occupied the space before. It was easily discovered that it had been a furniture store most recently, but before that we weren't quite sure.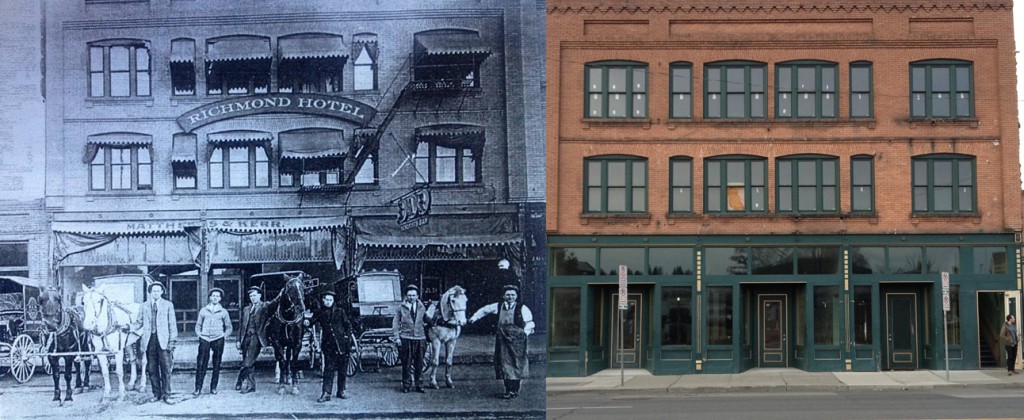 Above is a shot of the building very close to after it was built. The top two levels were an SRO hotel called the Richmond Hotel which changed names quite a few times until it was remodeled into apartments with two or three rooms in the 30's and 40's. And from what it looks like at this point, I don't think the top two floors have been touched much since then. There's bits of old wallpaper, newspapers lying around and very vintage paint colors.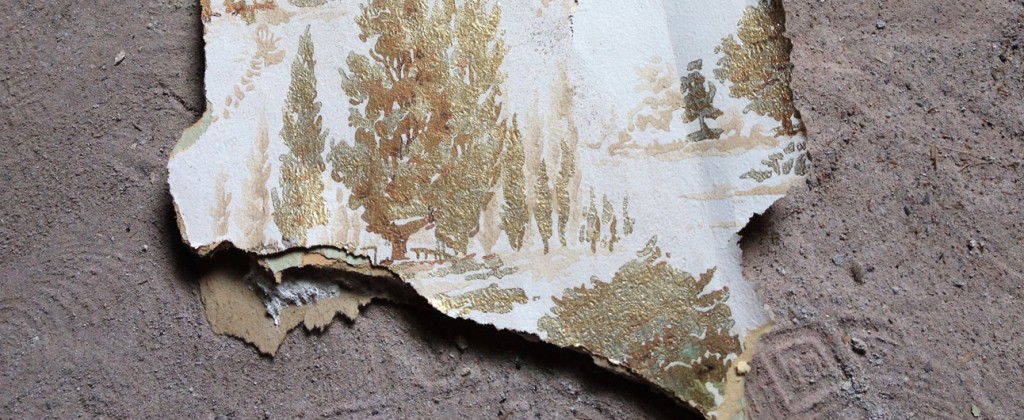 As we were working on removing some facing from pillars in the middle of the space that will be The Bartlett, I uncovered this business card. Left tacked to the pillar as if to remind future inhabitants.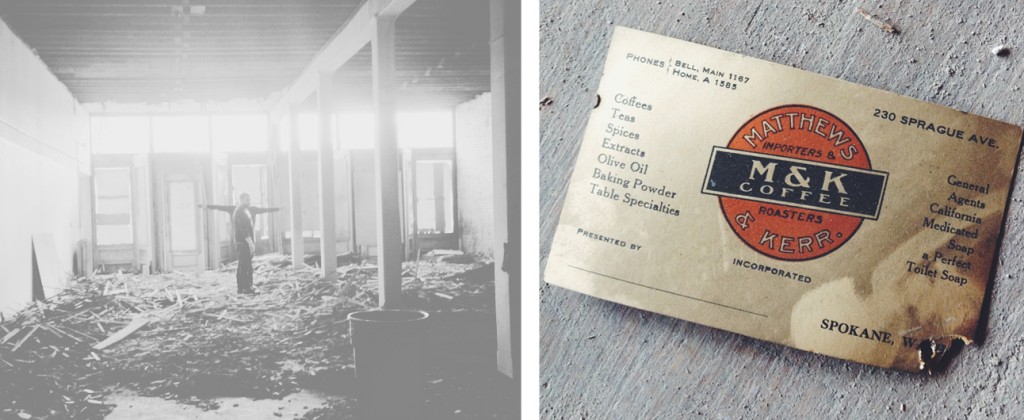 My timing must have been spot on because one of the only things I could find when I googled Matthews & Kerr was a catalogue on amazon for sale. I snatched it up and learned a few more tidbits about the company.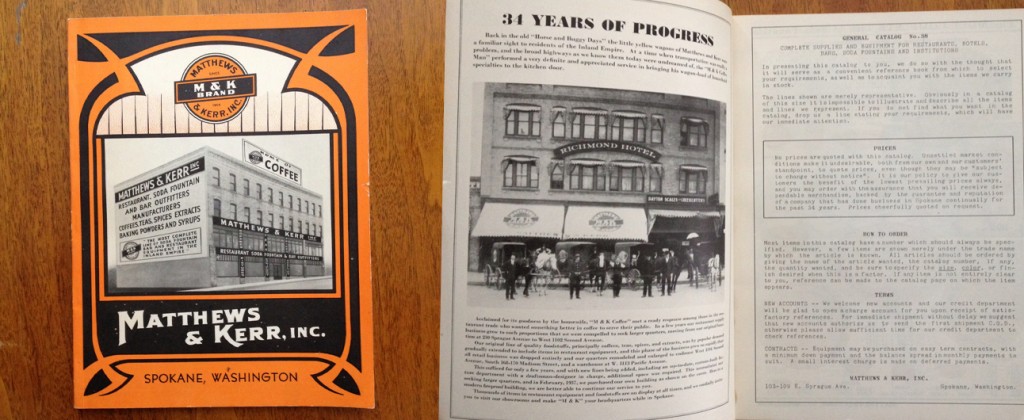 The building on the front of the catalogue still doesn't seem familiar to me and I'm guessing it is no longer standing. But just inside the front cover was another photo of Richmond Hotel building when Matthews & Kerr was in the first floor. Come to find out, they were just there for a couple of years as a retail store and coffee roastery. They sold wholesale coffee to hotels in Spokane and would deliver food and products by carriage to homes and businesses. They grew so rapidly and were so successful that they moved to just warehouse space. And eventually built their own building.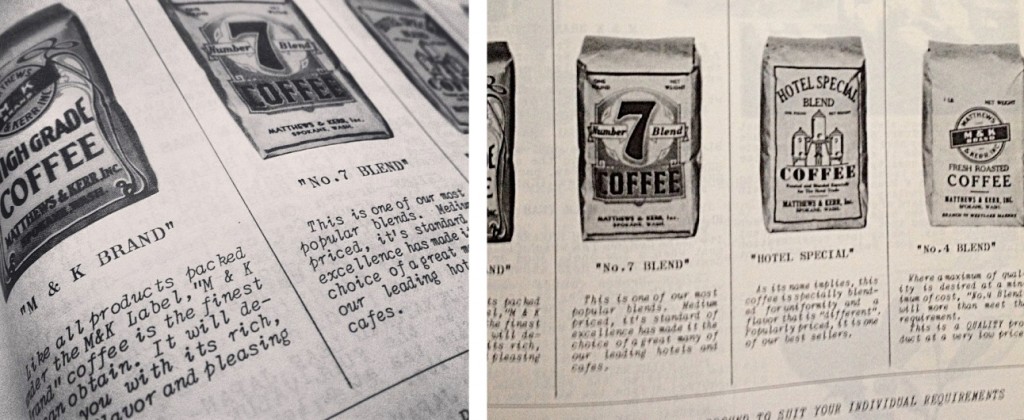 The catalogue I tracked down was I think from around the late 30's/early 40's and it was full of coffee products and restaurant supplies.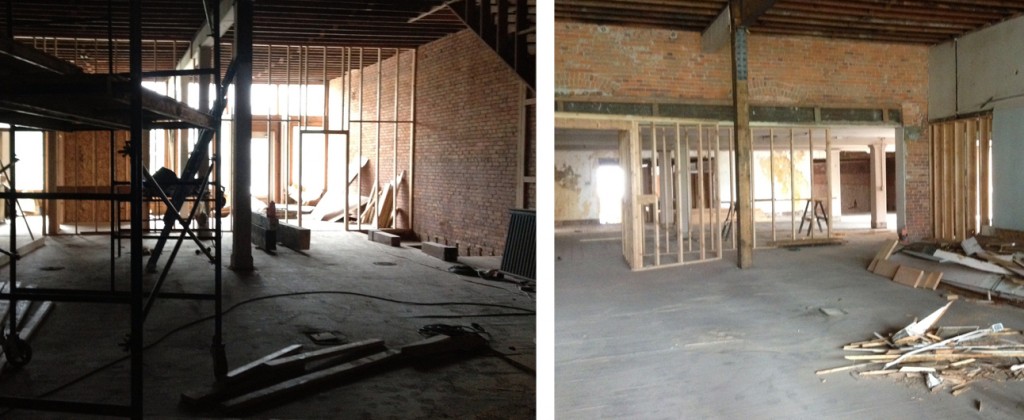 As far as progress on construction for The Bartlett, we are starting to really move along. Seeing the floor plan come together and checking things off the list every week is getting more and more exciting. We are getting close to launching our official website and rumor has it, we might even have our very first show booked! Every hour of hard work has been more than worth it, especially when we run into people around town who are sharing in the excitement with us.
I discovered this video on youtube last week. I recommend watching the whole thing, but if you just have a few minutes skip to 19:27 where they give a brief rundown on how much of Spokane was dedicated to the performing arts. Spokane at one time was "one of the most show conscious communities in the west."
We may have a ways to go before returning to this level of appreciation and patronage of the arts, but I am excited to join with the ranks of people who have worked hard to move us in that direction. With The Bartlett and with this blog. I'm thankful you are along for the adventure!