Music
Published on May 17th, 2017 | by Scott Ryan
0
Paisley Devil, 'Blissed'
On Blissed, Paisley Devil seems intent on making listeners dance at the edge of the dark emotional abyss he is staring into. Just as the Junior Boys-esque opener, "Leaky Gut," begins to settle into a laid back groove, Devil's Ramsey Troxel sings about a phone call from his father contemplating suicide. As the story gains layers, Troxel adds vocal octaves, until he seems to lose control of the choir of voices in his own head. But at least the beat feels good. This juxtaposition of intense emotional themes with a superficial veneer over them is recurring and makes for a moody and arresting listen.
Though clearly influenced by droning post-punk pioneers like Joy Division and Echo and the Bunny Men, especially in its sustained mood and Troxel's vocals, Blissed is built on lush, spacious synth textures with arpeggiated countermelodies throughout. It manages to move between chillwave grooves and more aggressive sounds easily, making it a perfect pairing for Troxel's harrowing lyrics. Nausea's violent, grimy percussion invites comparison to Nine Inch Nails; Hate the City, with saxophone breaks courtesy of Caleb Brown (Caleb Brown Trio, Super Sparkle), feels like something off of the soundtrack to a Nicolas Winding Refn film, conjuring images of neon city streets on a rainy night. Also, if it weren't clear that Troxel wants you to dance until doomsday, he makes a point in several tracks to slow things to a sonic halt mid-song, only to build back up to his equivalent of a climactic beat drop. If the songs occasionally feel over-stuffed or chaotic, it seems representative of being inside Troxel's troubled psyche.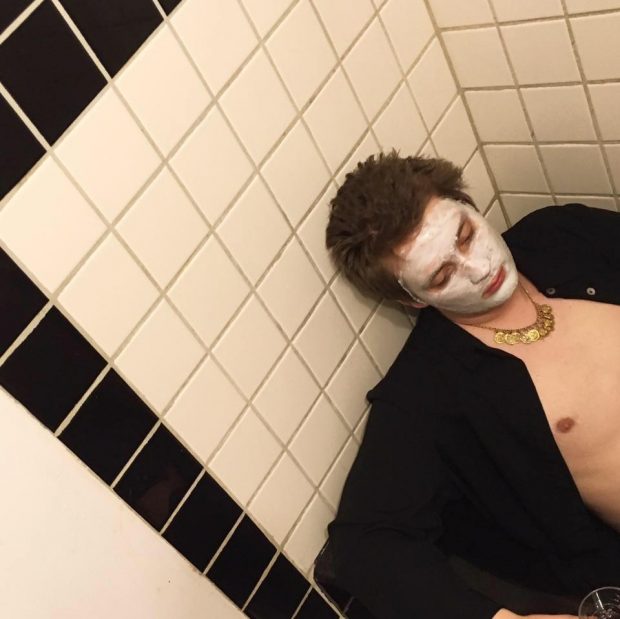 There's also an ambitious, thematic narrative playing out over the course of Blissed. As we listen, the narrator present in the songs seems to be seeking an escape from the looming depression and suffocating circumstances he faces. Toward the beginning of the record, we can hear him weighing his own existence and the options before him ("I can feel my mind run down the back of my face"), wondering if he can make it through the season, despite the emptiness and self-loathing ("Leaky Gut," "Come Down," "Nausea"). He feels a kinship between himself and the city he lives in and seems disgusted by both, slowly losing any sense of hope at all as he sings, "If there's a light that never goes out, show me now so I can shut my stupid mouth." ("Hate the City.") Next, he seems to be assuring/warning himself and those in his life that soon they won't "Feel Anything," on a track that would otherwise feel like a bit of levity. The record then highlights Troxel's voice at a low point in the cycle on "Lift (too heavy)" as his own addictions come to bear on his relationships. With "12-24-12," we get a vivid story about the exact date when an important relationship breaks beyond repair. The climax of the record's arc, the song begins and ends with the sound of strings playing in reverse. As Troxel grapples with regrets, it almost feels as if he wishes it could all be reversed and undone. The final two tracks allow the narrator to seemingly accept his weakness, and either give himself up to another person, or over to his preferred poison. "Tip (too weak)" links up to "Lift": "trying not to tip/ you're not strong enough to catch me." The record ends somewhat how it began, with the narrator going "Back on Meds," grappling with his depression and possibly finding some hope for the future, though not expecting it to last: "Will this time be different/ banging my head against the wall. Trying to get the cogs to fall back in place." To complete the journey, he references the opening track and again feels his mind run down the back of his face, the sort of vivid word picture that only comes from someone who's experienced the side effects of said meds.
It's bold to wrap this kind of dense, personal struggle in gauzy electronic music, but the contrast works to Paisley Devil's advantage. The record works on multiple levels, and will reward those willing to put in the time to hear the over-arcing narrative. The beats aren't bad either. And if getting lost in the music is a means to dulling the pain, Troxel's moody tales of depression and disaffection remind us that these things never truly disappear, even when dancing in their face.