Event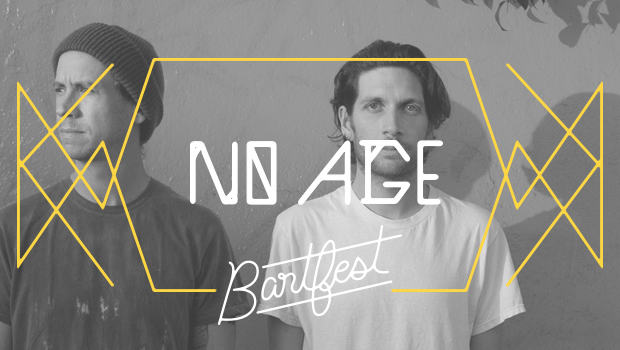 Published on September 3rd, 2014 | by Scott Ryan
0
No Age at Bartfest
Bands born out of LA's underground punk club, The Smell, tend to teeter right on the line between popular appeal, and noisy experimentation. The scene that has grown out of the venue has given us bands like the Dodos, Health, and perhaps most famously, No Age. And while these bands may graduate and move beyond their native following, the culture of the Smell is as important an influence as any other experience that has shaped their music. No Age in particular take the values of community within their fanbase, a DIY approach, and an anti-consumeristic, art-first mindset with them into all that they do. Though they are signed to Sub Pop records, the duo consisting of Randy Randalls and Dean Spunt hand made and packaged around 10,000 units of their latest record, 'An Object,' by themselves. Talk about dedication to an ideal. This same dedication can be heard in their music, taking cues from noisy punk and droning dream pop in equal measure, to create something powerful and honest.
The duo has been hard at work making music since they formed around 2006, and are known for a work ethic that keeps them touring constantly. In between making records and living on the road, the band has also been a favorite for scoring art installations and fashion shows by the likes of Rodarte and Doug Atiken. Dean Allen Spunt's droning voice and heavy drumming is the perfect compliment to Randy Randall's textured guitar work, creating melodies and harmonies from blaring feedback and thick layers of noise. Though dedicated to exploring the outer limits of sonic space, the band never distances itself too far from it's audience, and uses their memorable hooks to invite listeners to join them in their anti-corporate perception of creation and artistic expression. While the band was originally best known for breakneck tempos and ear splitting noise, their last two records, 2010's 'Everything in Between,' and 2013's 'An Object,' have found the duo pushing their own boundaries, experimenting with quieter tones and more subtle ways to use their bursts of sound to compliment their songwriting. Randall and Spunt have managed to find a great deal of maturity, depth, and even beauty within their sound. When distortion gives way to the lovely sound of strings on "An Impression," it is the sound of a band that expertly toes the line between great musicianship and exploratory artistry.The band has a hardcore loyal following, and has managed to grab national attention thanks to performances on late night talk shows, non-stop touring, and acclaim from just about every music publication worth reading. Don't miss them Friday night on the Bartlett stage.
Recommended Tracks: Fever Dreaming, I Won't Be Your Generator, An Impression
Get tickets to Bartfest here.