Art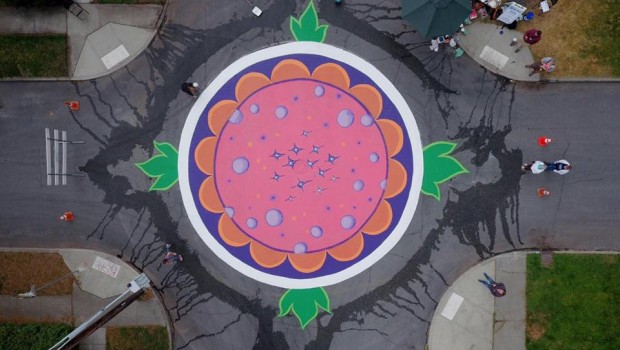 Published on May 24th, 2016 | by Karli Ingersoll
0
New Murals Fill Browne's Addition
Hello mural season! It's still a bit rainy, but that isn't stopping local artists. A recent project selected a handful of artists to create circular murals to fill up intersections around Coeur d'Alene park in Browne's Addition just west of downtown. Ellen Picken, Tiffany Patterson, Tom Quinn and Erin Mielcarek were featured to do these awesome pieces.
A cool aspect of these murals is that they had to be completed in ONE DAY! Which meant a lot of help was needed from the community. The results are stunning, bringing color, life and creativity into one of Spokane's favorite neighborhoods. This mural project is part of a greater year long series of special events celebrating 125 years of the park existing! Cheers to all involved, not only the artists but Friends of Coeur d'Alene Park and Spokane Arts.
Here's a rad video of Ellen Picken's team creating their super cool ribbon-inspired mural.
More pics from the day from facebook and The Inlander by Young Kwak.