Design
Published on January 6th, 2014 | by Scott Ryan
0
Favorite $20 I Spent in Spokane in 2013
I debated on the title of this post, considering I made a lot of valuable $20 purchases this year after moving to Spokane. If the title were, 'The Best $20 I Spent in 2013,' it would be a different post. I can't ignore raiding the General Store on Division, coupons in hand, for useful things like knit caps, snow shovels and de-icer. Or the amazing meals I split with my wife at Casper Fry. But when I remember my favorite $20, I am already nostalgic about the experience I had at Porter's Barbershop in the Garland district last August, where a bearded barber named Billy gave me one of the best cuts I've ever had. And mind you, the haircut was only one element of the experience. I left that shop walking a little taller and feeling more connected to a new community. Call me shallow, or tell me I don't get out much, but give me a chance to set the scene and you just might understand my fondness for a simple haircut and cleanup.
The first thing that needs to be said is that my wife and I have an infant at home, and that he is our first. Anyone who has been through the first year of parenthood can understand the mixture of relief and guilt that comes with a few minutes of time spent on yourself. The second part of this is that we are new to the area, having relocated from southern California in July. Moving to a new city means new everything, and I was coming out of a solid six year relationship with my previous hair stylist . Finally, haircuts tend to stress me out, more so when performed by someone with no prior knowledge of my cranial topography. This was the situation I found myself in when, after months of putting it off, I was in desperate need of a cleanup and was directed to Porter's.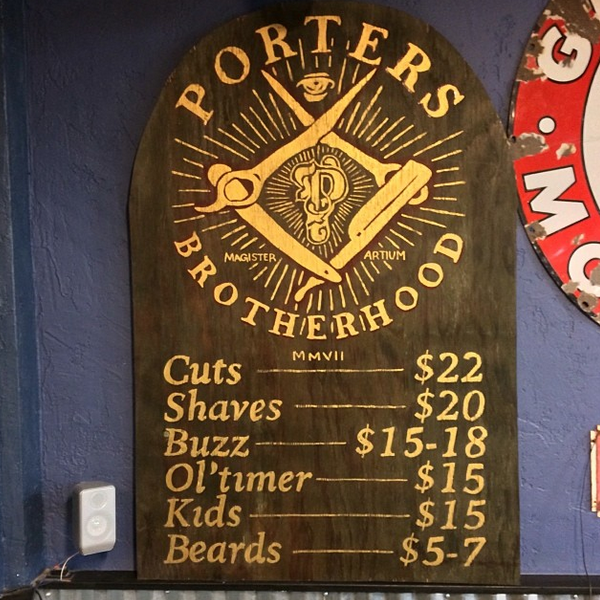 Porter's stands in stark contrast to the many, pre-fabricated grooming shops popping up that are attempting to cater to dudes. If the shop has to spell out who its for, chances are that the tackiness factor will be high. Porter's doesn't try that hard…it just is. From the motorcycles parked outside, to the retro, rockabilly decor, the shop simply knows it's intended demographic. The services provided not only matched the shop's authentic vibe, but made me feel like a well groomed human like nothing else had in a long time and helped me relax about my first trim in a new town. Chatting with the barber, Billy, and finding out that he was also a father of a young child made me feel a kinship with him and the place in general, putting me at ease about being out of the house. Trading stories about what our little ones had managed to hit their heads on while getting a hot towel treatment, straight razor neck cleanup, and a really fine haircut made the experience feel personal. For me, the mixture of old-fashioned barbershop service, personal interaction and vintage meets modern atmosphere made it a place I will definitely frequent. I walked out with a fresh look and a little less homesickness.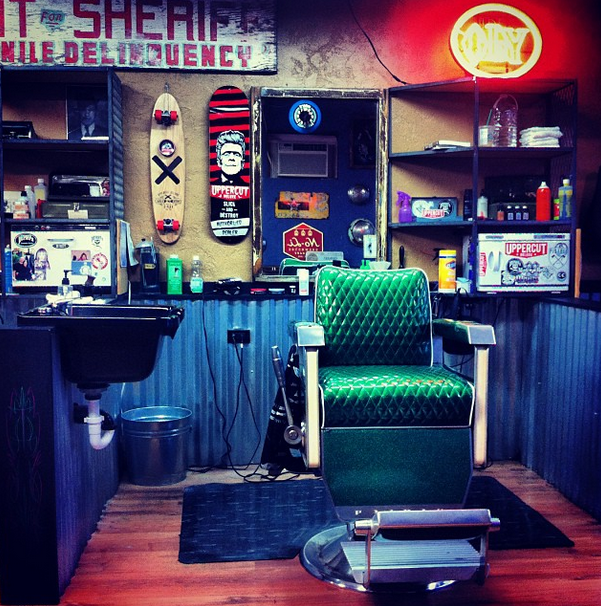 The men behind Porter's clearly have a passion for the Spokane community, and serve it well by providing a great place for men to get cut and shaved and enjoy a cool, comfortable hangout. They also provide a means for men to not have to admit to their wives that they went to Sport Clips. That alone is worth a lot more than $20.
photos from http://www.portersbarbershop.com/ and http://instagram.com/_billyjones