Event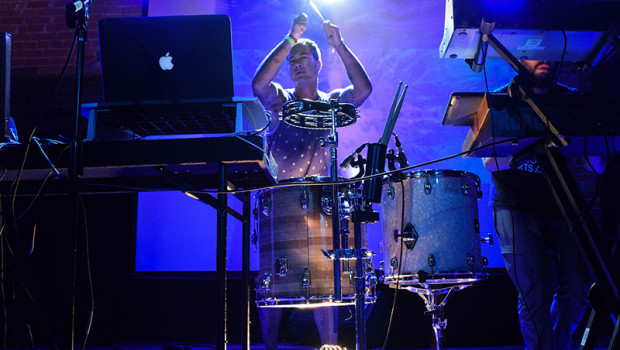 Published on June 9th, 2015 | by Miles Martin
0
Different Levels of VOLUME
Playing and Working at the Inlander's Music Festival

"Tonight's gonna be killer!" I hear those words pass my drummer, Chris Malsam's lips from the backseat of my minivan. He's referring to the violently loud lineup of bands he's planning to see tonight and practically salivating on the green, pull-out Volume festival guide from last week's Inlander. To me his words are more foreboding: I think I may actually die this evening. At the conclusion of my band's 7pm show at The Bartlett I will be immediately thrust into the difficult task of running the door and I'm worried that festival attendees will have my head when, inevitably, I have to inform them that we are at capacity. I predict this execution to take place at about 10:30pm when "Water Monster" (one of the Inlander's Bands to watch) begins their sound-check. At about 5:45pm I pull my van into the Bartlett's lot, my hands shaking from a combination pre-show nerves and a poor decision to skip lunch in favor of one last rehearsal. The first evening of Volume is about to begin and I'm unsure if I'll live to see the second.
Crystalline at The Bartlett | Photo by Grace Lindsey
We're not ready to enter The Bartlett just yet; our first destination is the Red Room Lounge where, with some luck, I am hoping to score an extra festival wristband for a close friend who is financially devastated from last weekend's Sasquatch music festival but wants desperately to attend Volume (it's tough to let that festival buzz die). The Red Room is about 4 city blocks away from our parking spot at the Bartlett and time is of the essence so I engage my fastest festival power-walk. The sun is shining and the streets are lined with vans and trucks from which drums, amps and axes are being quickly hauled into the venues for the numerous performances that are to begin at 6pm. Volume's tight schedule is completely dependent on the know-how of local bands: they've played these venues before and know what it takes to load-in, set up, jam out and clear off with impressive efficiency. Witnessing the hurried load-ins makes me more aware of my own ever-tightening schedule and my power-walk becomes a sprint. When I finally make it to the Red Room V.I.P lounge I am greeted by the always-amiable Diego Sanchez. He hands us an envelope presumably containing our wristbands and a paycheck for our performance. As I begin haggling him for an extra wristband my bandmates discover that one has already been placed in the envelope for a friend of our choosing. I go red with embarrassment for underestimating the festival organizers' foresight and ability to keep the bands happy. Diego laughs it off and continues distributing envelopes with a smile. As I leave the lounge I find myself wondering how he manages to stay so relaxed; with 90 bands taking over the streets I modestly estimate that around 250 of the hungriest, thirstiest kids in town are about to hit that V.I.P lounge like a swarm of locusts. Walking back toward The Bartlett I notice that the sky has turned grey. A storm is coming.
It's just about 6pm when we pass by Irv's outdoor stage, which is to host many of the singer/songwriter acts for the weekend, and see our friends Karli and Caleb Ingersoll as well as Jackson Cate and Caroline Fowler setting up to perform in their new group "Windoe". My bandmates and I had enjoyed the sweet harmonies on their new EP and were keen on hearing them performed in such a strange live environment. So we hurried back to The Bartlett to assess whether or not we had the time to see our friends before we had to set up for our show.
The situation at The Bartlett was relaxed to the point of undermining the dramatic intensity of this story. Kent Ueland of the "Holy Broke" (also the Bartlett's Door-Man Extraordinaire) was the first person I saw as we entered the venue. He was helping out on door with Scott Ryan, who is also production manager at The Bartlett and responsible for keeping things running smoothly. Both of these gentlemen were slated to perform later in the evening and both were totally calm and engaged in their current tasks. Seeing them reminded me that my situation was not unique or lamentable. I ask Scott how much time we have before we need to set up and he tells me to be back around 6:30. If we hurried we could have a solid 15 minutes of musical enjoyment before our show. It's at this point that I turn around to see that my bandmates have just ordered two tall-boys of Pabst Blue Ribbon (as they always seem to do upon entering the Bartlett).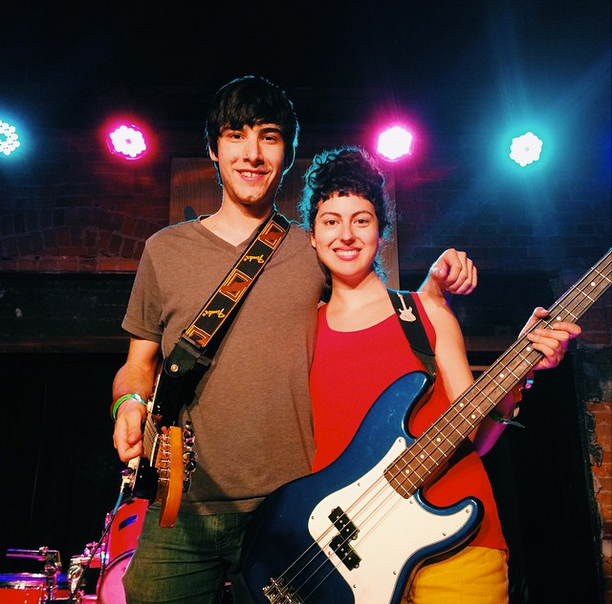 By the time I finish scolding them for throwing off our schedule they've already finished their beers and we're out the door, headed for Irv's. When we reach the stage Windoe's set is already in full swing and it is without a doubt the most angelic sound I have ever heard in the parking lot across the street from Mootsy's. They had a nice, big festival crowd already but were still visibly appreciative of our stopping by. After a few songs it's past 6:30 and we are sprinting back to the Bartlett. Out of breath and still shaking from hunger I unlock the van and we begin the task of bringing our gear to the stage. The amps and drums are miked-up with time to spare for a sound check so we begin playing a few bars. In no time at all, Turner Schultz (the Bartlett's audio intern) gets a good sound on-stage as well as in the room. When we finish the sound check with six minutes to spare before our set time I realize how favorable a time-slot we were given: with no bands playing before us, setup was quick and unobstructed. The bands playing later will have a much more difficult time maintaining schedule. We head outside for a quick breather before the show and before we know it 7pm has arrived.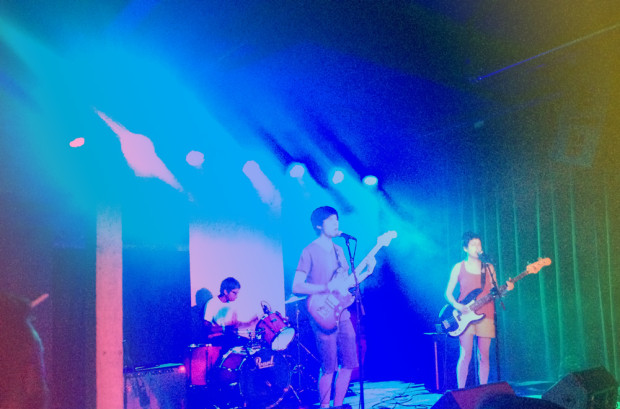 Friends of Mine at The Bartlett
When we hit the stage we are shocked to see such a large audience, later we learn that a last-minute cancellation by local favorites, "Mama Doll," is likely the reason for the extra-heads. Among these heads are Windoe members Karli and Caleb Ingersoll and while the reason for their appearance is likely to check on their venue (they are co-owners of the Bartlett) I also catch them bobbing their heads in the audience. Ubiquitous among all the bands playing Volume is an appreciation of the large festival crowds but it is even more special when fellow musicians support each other by making time to see each-others' shows. It is illustrative of a highly supportive and self-sustaining musical community in Spokane. At the conclusion of our twenty-minute set I am exhausted but immediately begin removing our gear from the stage out of respect for the next act and for Volume's tight schedule. With the gear packed and secured I enter The Bartlett once again to begin my shift running the door. I try not to let people see me shaking.
Von the Baptist at The Bartlett | Photo by Grace Lindsey
I was sure that I had been abandoned by my bandmates who all had acts that they were dying to see around town. I mentally prepared myself for a starved, lonesome shift. It was at this point that my Bassist walked through the door with a sandwich from CHKN-N-MO. Suffice to say: the sandwich and the company changed my disposition. The music coming through the door of the venue seemed to get better with every bite and before I knew it I was on my feet and bobbing my head to an eclectic variety of tunes. "Selector Dub Narcotic" was a solo rap set by Calvin Johnson (founder of K Records) it was a bizarre, hilarious and tastefully out-of-sync lead-in to the electronic acts that followed. "Sea Giant" and "Crystalline" were both in fine form and set the stage well for Water Monster's headlining performance. Listening to all the great music through the door while performing my job couldn't have been easier: festival attendees were laid-back and fun to interact with. They knew instinctively to display their wristbands as they entered and none seemed to be upset in the least by the rain outside. Late in the evening the venue began to reach capacity. It was the moment I had been dreading all day and I was still unsure how to handle it.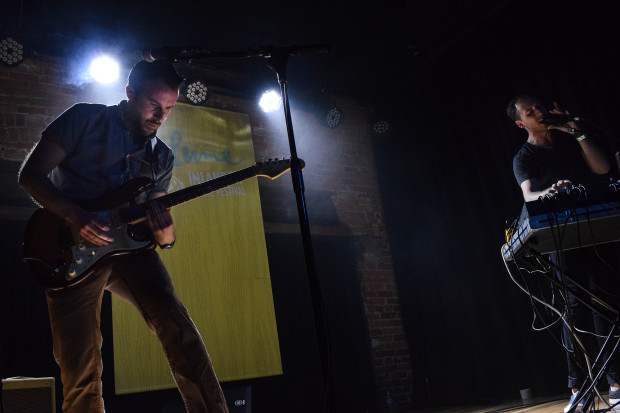 Water Monster at The Bartlett | Photo by Grace Lindsey
The crowd was reaching critical mass when Karli and Caleb Ingersoll returned from their show at Nyne. It was the second show they had played that day (this time with the band, "Cathedral Pearls"). They wasted no time in resuming their work at The Bartlett. Caleb went to go help on the soundboard and Karli assisted me by making a line of people in front of the venue. People in the line could enter as soon as people exited. This kept the venue from becoming overcrowded. There was a constant stream of people exiting and entering and no one even had time to notice that they were in a line. I could tell that Karli had encountered similar situations before. The Bartlett staff knows how to run a show and gracefully handled the considerable volume of the Volume crowd. Even the line at the bar was moving quickly (no small feat). Once again their calm competence had robbed my evening of its story-worthy tension. There was no execution and I kept my head.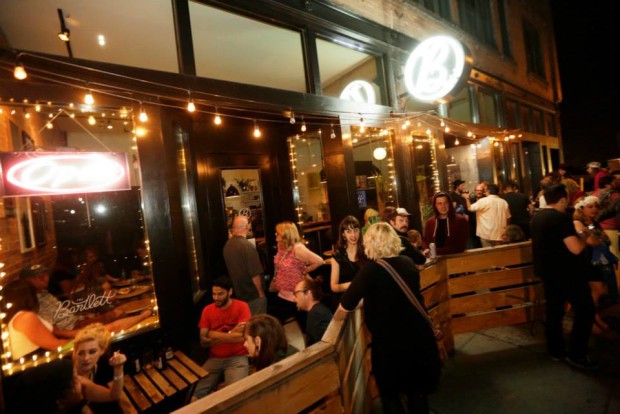 Photo by Young Kwak from The Inlander
When I left the venue I felt like I was walking on air. It was less like leaving work and more like leaving a party to go to another party. I decided I'd head to the Red Room and see how things had held up after the swarm of 90 needy bands (and maybe kill the keg). The cool, post-storm air was refreshing on the walk and I saw nothing but smiles on the faces of performers and attendees I passed on the way.
The Red Room V.I.P lounge was calm after the storm. The food had been eaten and the beer consumed. I couldn't expect hospitality at this point in the evening and was on my way back downstairs when an exhausted Shea Walser (one of the festival's organizers) appeared and hopped behind the bar to mix me a drink that was officially called a "Vodka Sour" but the sour was long gone and I got a vodka and ice. It was hastily prepared, difficult to drink and exactly what I needed. I knew at that point that I could never again underestimate the festival organizers' ability to keep everyone happy.
Crystalline at The Bartlett | Photo by Grace Lindsey
For the remainder of Friday evening and all day Saturday I was free to take in the festival my own pace. The acts I managed to see were amazing and the ones I missed broke my heart. Any seasoned festivalgoer knows that missing a few choice performances is inevitable. I did, however, manage to catch The Bartlett's headliners of the evening, "Von the Baptist," who were accompanied by a light show that seemed to change and vibe with every moment of their dark and dynamic set. Also adding interest to their volume set was drummer Nick Tibbets' filling in for their regular drummer, Brandon Vasquez. I've always associated Vasquez' measured, meditative drumming with Von the Baptist's sound but Nick brought a heavy, hard- hitting style (accentuated by some phenomenal hair flipping) that really seemed to satisfy the late-night crowd. The enthusiastic crowd reception of Von the Baptist's performance exemplifies the dominance of the local bands at Volume. Throughout the weekend locals seemed to attract the most crowd attention with the touring acts being a sort of cherry on top of the Volume cake. The reddest, brightest cherry of all had to be Chicago's "White Mystery". They were loud, raucous and seemed the most fitting group to conclude my loud, raucous Volume weekend. Outside their show at the Red Room I once again ran into an exhausted Shea Walser. His work was finally done and no one could debate its success. "I could fall asleep right here where I stand," he says. The ground was covered in cigarette butts, sweat and spit: all signs that Spokane has had one hell of a good time.