Art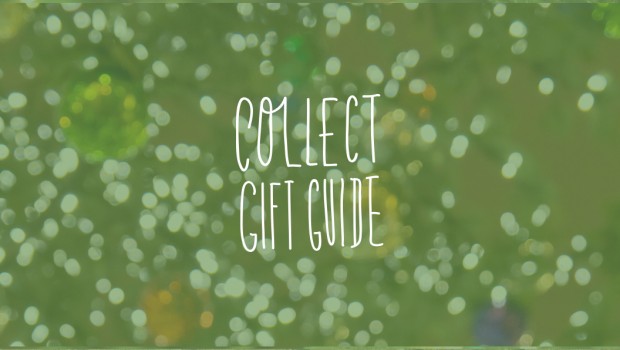 Published on December 12th, 2013 | by Karli Ingersoll
0
Collect Spokane Holiday Gift Guide // 2013
Christmas is coming really quickly and my guess is, you have a bit of shopping left to do. In the case that you are really organized and have a completed shopping list, there's always room for a bit of shopping for yourself. It's Christmas, after all! So, I've put together a list of items that range in price/style and are all Spokane/Northwest connected in some way. Buying local doesn't always mean shopping out at a local store, although we've included some of those options as well. But there's lots of local businesses, artists and musicians who have great products available online. Purchasing from these folks supports local jobs, spurs on future creativity and sports your local pride.
Northwest is Best
There really is nothing better. And the awesome thing is, people are starting to realize it. Here are a few inspired gifts by the rootsy, mountainous, homegrown Pacific Northwest.
[1] The Teddy by Krochet Kids
Krochet Kids may not be local, BUT it was founded by 3 Spokane natives and their love of the Northwest has never been removed from the heart of the products, all of which are hand crafted. This particular hat is for the kiddos, perfect for your favorite niece or nephew!
[2] Vintage Spokane Postcards
A special gift for the history buff or stationery collector in your life.
[3] Little Spokane River Photo Print by Stephen Alkire
A beautiful photo print of the Little Spokane River, great for some special seasonal decor. The print can be purchased in several size options and with or without a frame depending on your budget.
[4] Bag and shirt by the great pnw
The Great PNW, a Spokane based brand is the true Spokesman for "Northwest is Best," they even started the hashtag #upperleftusa. All their gear is PNW themed and they just released a bunch of awesome new stuff mostly printed right here in Spokane, including this sweet bag and new tee.
[5] Rocky River Soap
Rocky River Soap is a small local soap, lotion and lip balm maker. Their labels are designed by Kristin Violet…a rising star indie designer. These are a great, handcrafted alternative to the typical Bath & Bodyworks stocking stuffers.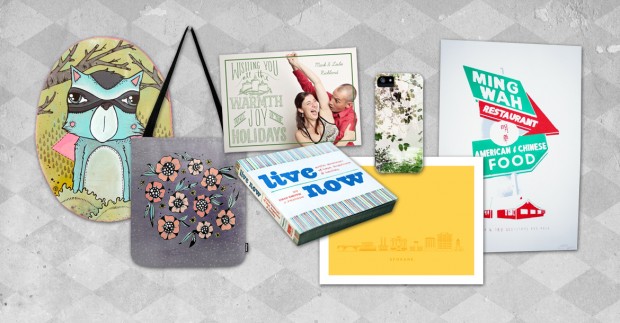 Art is Everywhere
Art? Design? We are kind of into that stuff. And there is more than enough to go around here in our neighborhood. It was difficult to choose, but here are some options for your gift list if you love local art and design as much as us.
[1] Painting by Tiffany Patterson Tiffany is participating in a special curated online show that funds post typhoon relief in the Philippines. This piece she donated is so lovely and would be an amazing gift with deeper meaning than even just having an original Patterson…which would itself make the most memorable Christmas ever.
[2] Blossom Tote by Tiffany Patterson
A more budget friendly Tiffany Patterson created gift. This tote is simple enough, yet has the illustrative, fun flair of all her work. Great for a young lady or anyone willing to rock the floral jams.
[3] Customizable Christmas cards by Mango Ink (design by Kristin Violet)
Mango Ink is a local custom card and stationery company. They have a ton of awesome new holiday designs you can add your photos to. Great to package up with some sugar cookies for friends and family as a memorable gift.
[4] Live Now by Eric Smith
Eric Smith's skills are something to admire. Add on an amazing cast of artists, and a moving story and you have the Live Now project. Live Now is a book of art with positive messages, each one removable and perfect to share with a friend.
[5] iPhone Case by Ben Delaney
iPhone cases are great stocking stuffers, why not get a locally designed one?
[6] Spokane Print by Jacob Greif
November's Collect Wallpaper by Jacob Greif is now a print! Awesome gift for a co-worker or boss and there's a range of sizes, colors and frames.
[7] Ming Wah Print by Chris Bovey
Chris is unstoppable! His set of Spokane prints are fresh, bright and full of vintage charm. Great prints for kitchen decor or a living room wall collage. Pick them up at his site or at Atticus, have we mentioned they are hand printed and very limited edition?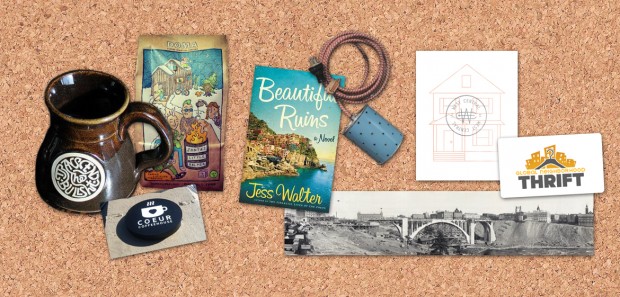 Sharing is Caring
It's not hard to be selfishly motivated when buying gifts for those who are the closest to you. So, why fight it? Embrace picking out a few gifts that you can enjoy as well and call it practical.
[1] "Transcend the Bullshit" Mug by Harold Balazs at Atticus
This piece by Harold Balazs has become a Spokane icon. Atticus has released several items featuring the composition and these most recent mugs are some of my favorites so far. Pick them up in the gift section before they run out!
[2] Coeur Coffee House Gift Card
Coeur has smoothly slid into the niche of most trendy coffee shop in Spokane, especially now that they have some taxidermy. A gift card to a local shop like this is a perfect stocking stuffer.
[3] Santa's Little Helper Coffee by Doma
Doma does it again. Another great coffee paired with a beautiful bag design (and 6 color print job) by Chris Dreyer! Talk about holiday magic.
[4] Beautiful Ruins by Jess Walter
Celebrate the local literary scene and local bookstores by grabbing a fresh signed copy of Beautiful Ruins, a novel by Jess Walter. Aunties has got you covered.
[5] Lamp by Faraway Lovely at Artemis
Faraway Lovely is one of our local favorites. He (Chase Halland) creates beautiful hand crafted works and art. He's selling these lamps at Artemis (an awesome downtown boutique). Grab one before they are gone!
[6] Monroe Street Bridge 36×9 Panorama Print
There's several of these early 1900's pano prints on Amazon at a really reasonable price. What a great way to remember some of Spokane's history and progress.
[7] West Central Print by Nick Tibbetts
This print (or another Hoods print) is great for raising some neighborhood pride and moral. And it will freshen up any room in the house.
[8] Global Neighborhood Thrift Gift Card
Great gift for the DIYer on your list. GN Thrift has a great, cheap selection of craft supplies, trinkets and household items.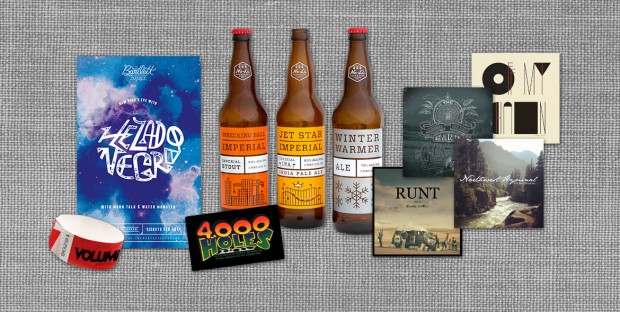 Music Fest
Christmas is a great time to share local music with friends and family. It might not exactly be what people expect, but a story behind a gift always makes it even better. Express your excitement for what's going on with local musicians or new music in general by sharing one of these super affordable options.
[1] Tickets to New Year's Eve with Helado Negro (21+)
Plans for New Year's eve are a great gift for a special someone or a BFF. We suggest sharing the first moments of the New Year with us and Helado Negro at the Bartlett. Moon Talk will be performing their first show as a new 4-piece band and Water Monster will open as well.
[2] Volume 2014 Wristbands – All Ages friendly
Volume is coming up quick in 2014! It's scheduled a bit earlier in the year this time (May), conveniently located very close to Sasquatch which could really up the game for getting some awesome touring bands. Wristbands are pretty reasonable ($15) and it will surely be just as awesome or even better than last year.
[3] No-Li beers (21+)
No-Li is local, easily accessible (at most grocers) and the packaging is designed so well (by Vancouver artist, Riley Cran). Great gift to take to a dinner party or for the beer lover on your list.
[4] 4,000 Holes Gift Card
A lot of music aficionados are moving towards purchasing vinyl copies of their favorite records as keepsakes along with their digital versions. Vinyl can of course be ordered online, but a great local place that stocks current releases and used vinyl is 4,000 Holes on Monroe. A great chance to support a local business and a part of the music scene infrastructure in Spokane.
[5] Local Albums
An awesome feature of bandcamp.com is the gifting option. You can easily purchase an album you like and have the download directly sent to someone on your gift list. We of course recommend a local release. Here's a few palatable options that anyone in your family could enjoy…Glossolalia by Marshall Mclean (folk/rock/americana), Off My Chain by Cathedral Pearls (indie/folk), Northwest Hymnal by Old Bear Mountain (folk/bluegrass), and Runt by Terrible Buttons (indie/folk).