Art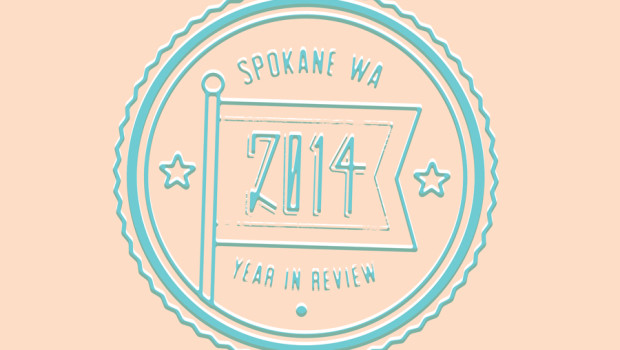 Published on January 15th, 2015 | by Karli Ingersoll
0
2014 Spokane Design Recap


2014 was an exceptional year for the indie design world in Spokane. Young artists are gaining more confidence, branching out on their own, establishing a unique style and setting trends. Local events have drawn artists out of the woodwork and gained recognition from a wider audience for the level of talent existing in this quiet city. It's beginning to feel like the sense for good design is easier to make out among.


Like many areas of industry, the design world has been one where sometimes it feels like young people aren't allowed. The "don't speak unless you are spoken to" mentality. Out of school an aspiring designer is hidden behind a corporate desk and an art director to learn production techniques and cut their teeth on less than creative work. Most post-graduate designers are happy to bide their time and move up the food chain slowly until their "dream project" comes to them. But many are taking a different route. I see young creatives filling their free time outside of their agency jobs to stretch their skills and show what they can really do. Instead of waiting for that dream work, they are running ahead and grabbing at it now and the results are inspiring.



A big proponent of this new risk taking has been the amazing organized opportunities out there for designers. Events like Terrain and Terrain's Bazar hosted a strong representation of the designer/illustrator/letterer population showcasing a slew of various prints, shirts and graphic inspired work. The Bartfest Poster Show was nationally recognized and sponsored by online international design community Dribbble. The Hoods showed off the 2nd round of some great neighborhood focused designs. And Halftone took it up a notch in it's 2nd year as a great indie gallery event displaying some great designs and artwork. Spaces like Fellow Coworking created environments for designers to interact and work. Events like Social Sketch, DrawOff and The Round inspired collaboration and shed light on process. Spokane Arts managed the creation of many new murals downtown including the Mobile Murals Project. Window Dressing launched and featured not only beautiful fine art but well designed goods, books and prints in storefront windows downtown. Initiative rose and the designers stepped up to the plate when they were prompted. Most of the time with little or no monetary benefit. This shows community, passion and a desire to get more good design into Spokane.



Another change I've seen this year as a result of Spokane's best talent being more accessible is one of the most exciting. Business and individuals have started to navigate their way with ease right to the source of creativity rather than having their mom or cousin who has photoshop do the work. This means a couple of different things. First, the general population is starting to get that good design is important. It's something to put attention and care into. They are also seeing that good design isn't just aesthetically cool or neat, which it is, but it's functional and efficient. A well designed piece of art, a logo or an invitation suits it's purpose and can have a lasting impact far beyond something that is thrown together. Acknowledging this is a trait of a cultured city and a place of progress and I think we are inching into that territory…slowly but surely.



Lastly, I'm just seeing local artists freaking kick some serious butt! I mean good grief. People are creating stunning work and I'm constantly blown away. Even just searching through images from last January until now, I can see growth, maturity and a distinct level of quality that didn't exist a year ago. Wow. Here's to more murals, more rad tshirts, more wicked band posters, more effective logos and more well-rounded branding. And as we continue to infiltrate the corners of Spokane and bring better design, may the core of the work be as authentic and passion filled as it has been this past year.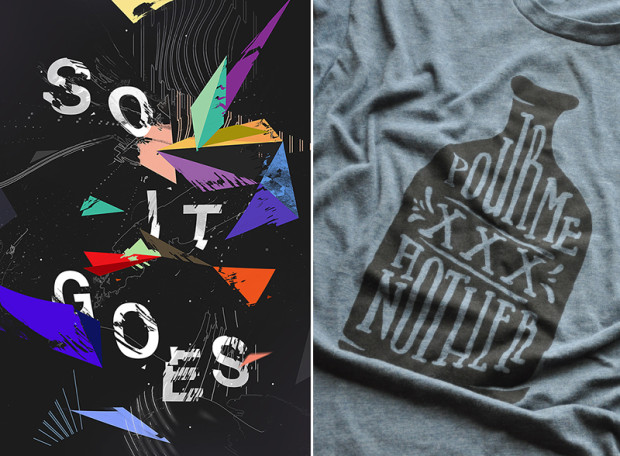 Image credits
1: left by Jesse Pierpoint | right by Tiffany Patterson • 2: left by Aaron Abolofia | right by Amanda Johnson • 3: left by Joel Barbour | right by Tiffany Patterson • 4: left by Eric Smith | right by Matt Bogue • 5: left by Joel Barbour | right by Jesse Pierpoint • 6: left by Eric Smith | right by John Mujica • 7: left by Tiffany Patterson | right by Jacob Greif • 8: left by Danielle Davis | right by Amanda Johnson • 9: left by David Waters | right by Aaron Abolofia • 10: left by Tony Kuchar | right by Nick Tibbetts • 11: left by Jacob Greif | right by Joel Barbour